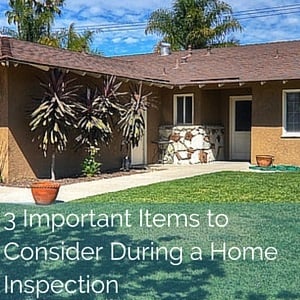 Getting a home inspection is an integral part of the home buying process. A home inspection is a detailed examination of the present condition of the home for sale and is intended to identify any components or systems that could be deficient or unsafe. By identifying these components during a home inspection, the potential home buyer can determine the integrity of the home.
Knowing what to look for during a home inspection is extremely important for homebuyers so that what they think that they are buying and what they are actually buying matches in reality. There are three main categories that should be evaluated during a home inspection:

Structure

The most important item to look at during a home inspection is the structural integrity of the home. For the most part, almost all homes have strong structural components. However, if there is something structurally wrong with the home, the rule is generally that you shouldn't buy the home (unless you're an investor looking to renovate the home and thus are buying the home for an extreme discount).


Safety


Safety issues such as electrical wiring, plumbing, HVAC systems, broken windows, etc. is the second most important item to look at during a home inspection. If safety issues are discovered during a home inspection, a buyer could go back to the seller (via a repair request), and ask for either 1) the safety hazards to be fixed or 2) receive an appropriate credit towards the home price if the item will not be fixed by the seller.


Deferred Maintenance


Deferred maintenance items are things like leaky faucets, aging appliances, or weathered roofs. These are items that will eventually need to be replaced to maintain the home's quality. If you're buying a brand new home, there will be very few deferred maintenance items, however the older the home, the more items that may have deferred maintenance. Yet, if an item is more worn or broken than expected, it can become part of a repair request that is submitted to the seller.



Even though a home inspection is very thorough, there are certain specialty items that may not be included like swimming pools and spas, or specialty systems such as alarm systems, lawn sprinklers, etc. that may require another specialist to review.

The home inspector that you choose is critically important. The qualities of a good home inspector that homebuyers should look for is somebody that is full-time and professionally trained, certified, and educated, has good reviews, and follows Nationally Accepted Standards of Practice. You should expect to receive a formal narrative report (like this one) from your home inspector that details issues discovered during the course of the inspection that includes digital photographs, and should list out major concerns, safety issues, and deferred cost items. This report shouldn't contain repair costs, since a professional home inspector should only inspect and not repair, as that is considered a conflict of interest.

Knowing what items should be evaluated during a home inspection, what to expect, and choosing the right professional home inspector to conduct the actual home inspection is important for any potential homebuyer when evaluating a home that they have made an offer on.