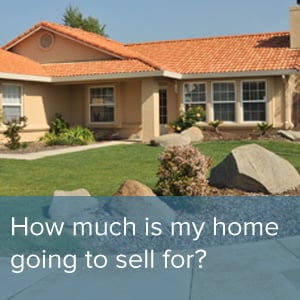 Sellers often ask: "How much can I sell my home for?"
The answer depends on a few factors. The goal is to always get the highest price, yet there are many variables that determine the asking price and ultimately the final sale price of a home.
There is an art to pricing a home to sell. Every home has a "range of value." Typically, it makes most sense to price a home at the high end of the range.
Setting an offer price that is not too high and not too low will put the Seller in the most favorable position. Ultimately, the "market" will determine the market price which is defined by willing Seller and willing Buyer.
The price of a home is affected by two main factors: the features of the property and current market conditions.
Home Features that Influence Sale Price
Every home is unique. The home's condition, unique features (positive and negative), location and the many details all influence the sale price. Below are some of the factors that affect the price of a home:
1. Size of the home
Larger homes in good condition and a good area will sell at a higher price than smaller homes in the same condition. More bedrooms and more bathrooms will increase the sale price. The amount of garages and the size of the lot will increase the price the home will sell for.
2. Condition of the home
Newer homes sell for more than older homes (same area). Homes in rough condition with extensive deferred maintenance sell for less. Buyers typically want a home that is move-in ready. The less work that needs to be done, the more a Buyer is willing to pay. Buyers pay the most for a new home, then a newer home, then a remodeled home in an older area and will pay least for a poorly maintained home in an older area (a fixer-upper or handyman special).
3. Location of the house
The old saying "location, location, location" prevails. Homes located in the top school districts, near popular amenities and on the best lots will command a higher asking price than a home located in a poor school district or on a busy street.
4. Orientation
Your home's orientation and the way it faces may affect the sale price. Homes that get a lot of light typically sell for more than a home that is dark because it does not get much sun. Even the smallest details can affect a sale price.
5. Lot Size Landscaping
Lot size is an especially valuable commodity in California. Larger lots and view lots typically sell for more.
Nice landscaping will command a higher price. We often have our Sellers plant colorful plants to make the entrance more welcoming. One of our Sellers recently put in new sod and upgraded landscaping, which helped them get an above asking price offer[BD1] . The same home with older landscaping would have sold for less, especially with the front landscaping.
Current market conditions also impact home values. These factors include the following:
1. Competition
The supply and demand of Buyers and Sellers in your neighborhood will have an effect on price. If there are many houses for sale of comparable size and condition, you may have to adjust your pricing in order to sell it quickly. If, however, you are selling your home with limited inventory and there are many Buyers, you can set your sale price on the higher end of the range.
2. Comps
When you're selling your home you'll hear a lot about comparable homes or "comps." Comps are similar homes that recently sold in your area. We adjust the comps to reflect your home's value in relation to the comps. Typically, we look at three to four recent sales to determine the range of value. Then we can figure out the offer price depending on your home and specific needs.
3. Buyers
We always have to consider the available pool of Buyers in the market. If there are not many people looking to buy, it will affect your asking price. Conversely, if there is a surplus of Buyers in the market, it will drive prices upward.
Our Job is To Get You the Best Sale Price
No matter what the condition of your home and no matter what the current market conditions, there is a Buyer for your home. At Inspira Group, we work closely with you to prepare your home for sale and set the optimal sales price. We'll give you the best practices and our 25+ years' experience. We'll match your goals when making recommendations for a sale price, and be there for you every step of the process from getting your home on the market through closing.
If you're ready to sell your home or thinking of selling your home in the Irvine, California area, please contact us to set up a no-obligation consultation to learn more about how we add value to our clients.