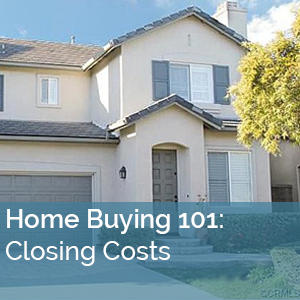 I'm often asked, "How much are closing costs?" By being well-informed and educated on every aspect of the home buying and loan process, you can enjoy the experience even more and make sure it's a time full of happy memories. Something that first time home buyers need to especially be aware of and educated on are closing costs.
There are two types of closing costs:
1) Non-Recurring Closing Costs
"Non-Recurring Closing Costs" (NRCCs) are one-time, and are transaction costs. Some examples of NRCCs are escrow, title fees, home appraisal, home inspections, recording fees, and lender fees.
2) Recurring Closing Costs
"Recurring Closing Costs", or pre-paid items, are monthly or annual charges that are continuously paid. Some examples of RCCs are interest, property taxes, hazard insurance, or mortgage insurance (if applicable). Typical RCCs are prepaid interest, one-year home insurance, and setting up an impound account.
Below is a table of typical RCCs and NRCCs:
Buyer NRCCs,
One Time

Buyer RCCs,
Recurring

Escrow

Taxes

Title Fees

Interest

Home Appraisal

Hazard Insurance

Home Inspection

Mortgage Insurance
(if applicable)

Lender Fees

Recording Fees
Once you have applied for a loan, your mortgage banker or mortgage broker will give you a Loan Estimate (LE) within three days to show you the estimated closing costs for your home purchase. If you would like to see a real example of a closing statement recently used for a client that breaks down NRCCs and RCCs, click here. (In this example, NRCCs are marked with checkmarks and RCCs are marked with circles.)
Closing costs are easy to understand when you know which costs are NRCCs and RCCs. This will help make your home buying process smooth. To find out more about specific closing costs for your new home, contact the expert team at Inspira Group today.