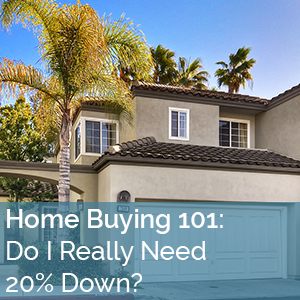 First-time home buyers often turn to Google to answer the multitude of questions like "How do I buy a home?" "How do I get a home loan?" "Where do I start if I want to buy a home?" The opportunity with Google is that it can lead you to reliable resources like blog articles, news articles, and more, however, there is also some inaccurate and misleading information out there.
A specific topic that first-time home buyers may be misinformed on is, "How much do I need as a down payment for a home?". I often see posts that say that a minimum of 20% (of the home price) is required for a down payment when purchasing a home. Is this really true?
No, it's not! In fact, there are many ways that you can buy a home with less than 20% down.
Explore Your Loan Options
There are several different types of home loans available for a prospective homeowner to explore that require less than 20% down. For example, an FHA loan will allow for as low as a 3.5% down payment and some conventional loans will allow for 3% down, as well.
There are also specialized loan programs available that allow buyers to purchase with less than 20% down. For example, a VA or USDA loan allows buyers to put 0% down, yet, there are very specific requirements to qualify for such a loan. For example, for a VA loan, you would need to have been in the military to qualify, whereas, FHA and conventional loans do not have this prerequisite. Depending on where you live, there also may be other low down payment loan options available.
Where Did the 20% Myth Come From?
20% down is often seen as the benchmark for a down payment but it is by no means a requirement. There are many ways to make your dreams of owning a home come true while still putting less than 20% down. Why are buyers constantly hearing that you must put 20% down within the industry, then? With less than 20% down, Mortgage Insurance is typically required and possibly where the 20% target came from, as most people assume that putting 20% down is the only way to avoid these additional costs.
Though the internet can be a valuable resource for finding information on buying a home (when you know where to look), nothing can replace the value that meeting with an experienced real estate consultant and mortgage broker/banker will provide you, as they will be able to give you the most accurate and customized scenarios for your unique circumstances. If you have any questions at all – no matter how big or small – about home buying, selling, or financing contact the experts at Inspira Group who can give you the answers you seek, the support you require, and the experience you deserve.