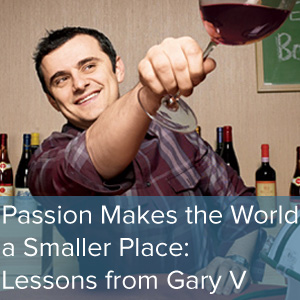 Gary Vaynerchuk is a thought leader in social media and is truly crushing it with his ability to consistently connect with his audience online. His success is based on his keen insight into the changing dynamics of the impact of social media and his straightforward personality that just says things how they are.
For those who aren't familiar with Gary Vaynerchuk, or Gary V as he is commonly know, he grew his family liquor store to a multimillion dollar online business. His use of video blogging and other social media channels is masterful. His first book, Crush It!, talks about the opportunities today that are so unique in a historic sense because you can take your passion and let others know.
Unlike other times in history, you can reach a large audience in an incredibly quick timeframe. You can feel his passion about wine, about social media, and about life.
Gary's second book, The Thank You Economy, focuses on the localization of business and how old-fashioned customer service is going to win. The customers that feel gratitude will let others know and keep coming back. With review sites, like Yelp others find out quickly who are the best providers, best restaurants, etc. The game has changed and Gary knows how to interpret the playing field and give solid insight into the opportunities.
In his latest book, Jab, Jab, Jab, Right Hook, he shares how to tell your story in the noisy world of social media.
"Every Year, the world becomes a little smaller, a little more social, a little more connected." "Creating content that allows us to share our experiences, thoughts, and ideas in real time is becoming an intrinsic part of life in the twenty-first century (in fact, it's getting to a point that we're making a statement when we don't share or choose not to connect)."
Social media is a place to share your passions. Through social media you have the chance to speak directly with your audience. Gary V's passion comes out when he is talking about wine. My passion is helping people buy, sell and finance homes. I love it, it is my passion, and the thing that gets me up in the morning.
We're constantly forward-pacing and letting our clients know what to expect. We're constantly finding ways to be proactive and consciously avoid issues before they arise. We're teaching the essential ideas, facts and concepts they need to know and understand to be educated consumers from our 25+ years experience.
Gary V goes on to say "The world changes, platforms change, and we learn to adapt, but the secret sauce remains the same. The incredible brand awareness and bottom-line profits achievable through social media marketing require hustle, heart, sincerity, constant engagement, long-term commitment and most of all, artful and strategic storytelling."
Today, it is essential that we share our message on social media and Gary V is living proof. I play "all-in", I'm passionate and want to use social media to share our expertise and help you make the best decision possible for you and your family when you're buying, selling or financing your next dream home. Looking forward to hearing from you on Facebook, Yelp, or Google +!
If you're interested in learning everything you need to know about the pre-approval process, then checkout the amazing checklist we put together. Inside you will find everything you need to consider when getting ready for pre-approval on a home loan.
Image credit: Inc Magazine