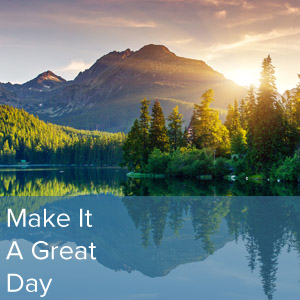 Those who have called and went to my voicemail know that I end my recording by saying, "Make it a Great Day!"
That statement seems to become mundane sometimes--like saying, "I love you" without thinking. However, this morning I was very conscious about making it a great day. It got me thinking, "What makes a day great?"
Here's what I've come up with:
Being Connected to People
Every great day involves connections with people. People you love, people you care about, and people you casually come in contact with. Really having solid connections creates emotional depth that supports a great day.
Accomplishing Something
Setting out to accomplish something you are passionate about and getting closer to it feels great. Whether it's meeting a relational, spiritual, fitness or business goals, it feels amazing to know that you are making things happen in a positive manner. This is the foundation of a great day for me.
Fullness
It is 12:30 am right now and my day was very full. I am invigorated by how the day went. I am not tired, but inspired. No TV, no aimless internet searches, no conflicts--I'm just chilling after a great day. It's like watching a sunset and enjoying the transition of the business of the day into the calm of the night. I love when I can look back and feel the power of a great day.
Peace
A great day is grounded in peace. The day is not without its conflicts or items that need attention. But in all of it, I feel a peace when I know that I brought my all to the table--integrity, honest dealings, care, kindness, love, and inspiration.
Nature
Most great days have some connection to nature. Whether it's a nature based vacation or a walk around the neighborhood, I am committed to finding space in my life to enjoy nature. A visit to the beach or a meditation in my backyard can make my day feel more complete.
Okay--I guess it's time for bed so I can be rested for my next great day. Make it a great day!