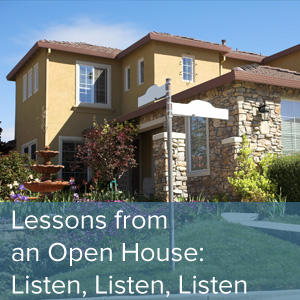 Yesterday I was showing homes in Ladera Ranch to a nice family looking to purchase their first home. We arrived at an Open House where the Realtor greeted us and started telling us about the home. Before I could even get my bearings, I was being told about this feature and that feature and how this home was great. My mind shut off quickly as I just wanted to be with the home and inquire what my clients that they thought of this home.
We walked upstairs and I was happy to finally be able to look around and understand the dynamics of the home and see if it was a possibility for my clients. We stopped in the master bedroom and I asked them what they thought? "Oh no!" The agent walks in and tells us the homeowner just replaced the bathroom floor with tile and how the community has good parking and is freeway close and where he lives in relationship to the home and how this community is perfect.
My mind was saying "Is this guy going to stop talking?" I asked my clients a question and he quickly went on and on… After 5-10 minutes of the ramble, we finally left and I asked my clients what they thought. They said "We didn't like the home and the agent was annoying." We went on our way, saw two more homes and put an offer on a home.
I don't get the other agents approach and my recommendation is for him is to listen, listen listen. When I work a client my goal is to match their needs with the right home.
I sometimes make the analogy to facial recognition software – ie there are many data points and once there is a match (whether identifying a person or matching the right home), you just know it is right. When representing a Buyer, I am not trying to sell a particular home, yet, be the consultant and listen critically to the family needs and then help them find the right home.
A quick video to remind us all to "Listen, listen, listen!"
Next time, I'll avoid that agent's open house!