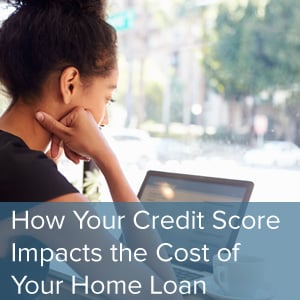 Even if you've never had a mortgage, you likely know that your credit score has an impact on your home financing options. Most mortgages follow a risk-based financing model, which means that individuals with riskier profiles will have to pay more for a mortgage than those with less risky profiles.
Buyers with an understanding of how this pricing model works will be better armed to make good home financing decisions and save money.
Fannie Mae/Freddie Mac Loan-Level Price Adjustments
Fannie Mae and Freddie Mac dominate the mortgage market, so it can be useful to understand how they price mortgage risk with loan-level price adjustments (LLPA). LLPA's can be defined as charges applied to a mortgage based on specific risk factors. Those risk factors include credit score and loan-to-value (LTV). LLPA charges are calculated using Fannie Mae's LLPA price matrix.
LTV and Credit Score Adjustments
Loan-to-value is the loan amount divided by the purchase price of the home. Borrowers with low LTV ratios are considered to be less risky than those with high LTV, because they have more equity in their home and are perceived as less likely to miss payments or default on their loan. So, for example, a borrower with a 740+ credit score who puts 20% as a down payment (80% LTV) will have an additional .50% fee, whereas, a borrower with 40% down (60% LTV) will not have this LLPA additional fee – in this example, the difference is .50% x $400,000 = $2,000.
In addition, credit score is used in combination with LTV to determine a borrower's risk profile and the exact LLPA enhancements or costs.
How LLPAs Work: An Illustration
Sound confusing? Let's work through another example to see how the matrix works. This will give you a better understanding of how credit score affects your home loan. All lenders selling loans to Fannie Mae/Freddie Mac use the table below when pricing a mortgage. This table shows the relationship between credit score and LTV.

So let's illustrate with an example of a $400,000 mortgage with an 80% LTV and a credit score of 640. The LLPA add-on would be 3.0% x $400,000 or a $12,000 fee adjustment. Using the same example for a borrower with a 740+ credit score, the LLPA would be .50% or $2,000. So, the lower credit score loan would cost $10,000 more in fees than the higher credit score borrower.
Lenders will run 3 scores for each borrower – typically, one from Equifax, Transunion, and Experian. They will use the middle score or the lower middle score (if multiple borrowers) to calculate LLPA's. As you can see, your credit score is critically important when obtaining a loan. That's why it's imperative to maximize your credit score before seeking home financing.
Lenders Can Only Quote Accurate Rates When They Know Your Score
I often hear stories of lenders quoting loan rates without knowing the borrower's credit score. This seems absurd to me because the only accurate way to quote honest rates and fees is to know the precise credit score. Lenders who quote mortgages without knowing credit scores and LTV are either intentionally or unintentionally providing misleading information.
Unfortunately, there are lenders who, for various reasons, are simply not experienced or competent enough to go through the proper steps to provide accurate and reliable quotes. This is another reason why the pre-approval process is so important and why it's important to work with a full-time, experienced lender. Getting pre-approved is a critical step in being prepared when buying a home.
If you are a homebuyer in California, contact us today. Our team is there to help you through the entire process, from pre-approval all the way through closing, and even after you own your home. We'll help you make the right choices based on your personal goals and your unique financial situation. We look forward to hearing from you soon!